Keep your mulch colorant supplier in check
Download the checklist for key questions to ask
How does your supplier source raw materials?

What kind of testing protocols are in place?

And (surprisingly), are you shipping mulch colorant in new or used totes?
Believe it or not,

this is a question you actually

must

ask your mulch colorant supplier.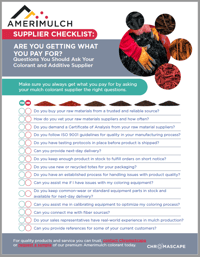 In fact, there are a number of questions that aren't necessarily top-of-mind that you should be asking of a new (or even existing) supplier.
Download the colorant supplier checklist for 13 questions to ensure you're getting the highest quality product and service.
Submit the form to get the checklist now and gain the peace of mind that comes from vetting, selecting or retaining the right supplier for your needs.